Vitocco is a water-soluble supplement containing vitamins and minerals produced by Abdi İbrahim pharmaceutical company in effervescent form with orange flavor. It reduces fatigue and exhaustion by supporting the energy needs of individuals who are exhausted in the hustle and bustle of daily life. It has a structure that provides B vitamins, magnesium, calcium as well as zinc minerals and vitamins together.
How to use Vitocco Vitamin?
After adding an effervescent tablet to a glass of water, you can consume it by waiting for it to dissolve in water. In addition, the recommended daily intake is one tablet per day. It can be taken every day, but just like with other supplements and foods, you can consult your doctor before using it.
Vitamin B2 darkens the color of the urine, but the part your body does not need is excreted in the urine.
What is Vitocco Content?
C vitamin: It contributes to energy formation metabolism, reduction of fatigue and exhaustion.
Zinc: Macro nutrients contribute to the metabolism. Supports energy production from food.
Magnesium: Contributes to normal muscle function. Its use before and after exercise supports performance.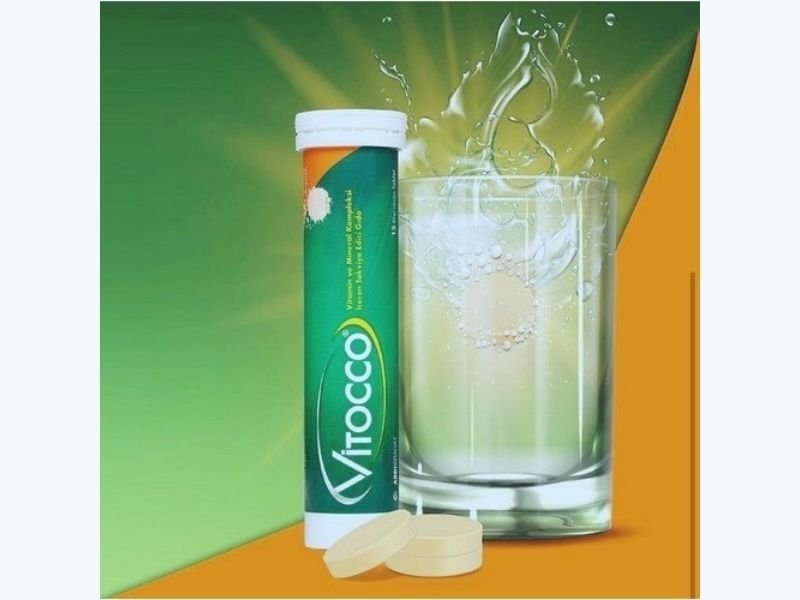 Related Article: What Does Pharmaton Do?
vitamins
Quantity
% Reference*
Vitamin C
500 mg
%625
Magnesium
100 mg
%27
Vitamin B3
50 mg NE
%313
Zinc
10 mg
%100
Pantothenic Acid
23 mg
%383
Vitamin B2
15 mg
%1071
Vitamin B1
11,8 mg
%1073
Vitamin B6
8,23 mg
%588
Vitamin B12
10 μg
%400
Biotin
150 μg
%300
Folic acid
400 μg
%200
*Nutrition Reference Value
Vitocco Vitamin Content
Use: Dissolve 1 effervescent tablet in 200 ml of water per day and drink.
Vitocco Price 2022
It is 52 TL + VAT in pharmacies.