Today, we would like to give information about the benefits of green leafy moringa tea, which is constantly researched by those who want to lose weight with herbal moringa tea. The reason why moringa, whose homeland is India, has become so popular in recent years is because of the benefits of moringa for weight loss and its high quality nutritional value. So does moringa tea really work? Does Moringa tea have an effect on slimming? However, what exactly are the benefits of tea? We share more detailed information later in the article.
What Are the Benefits of Moringa Tea?
In fact, the benefits of Moringa tea are endless. Many studies also support the benefits of moringa. As a result of our research, we list the benefits of moringa tea for you below:
Moringa Tea Is Rich in Antioxidants
A 2009 study revealed that moringa leaves have strong antioxidant activity against free radicals. one made in 2012 in research On the other hand, it has been observed that moringa tea made with 2 teaspoons of moringa powder a day increases the antioxidant levels in the body.
Moringa Tea Balances Blood Sugar
In cases where the sugar in the blood rises, moringa tea lowers the sugar, reduces the amount of glucose in your bloodstream and helps to balance the sugar level.
Reduces Inflammation in the Body
According to a study conducted in 2020, those who used moringa observed that inflammation and pain complaints were reduced thanks to the anti-inflammatory property of the plant. It was also revealed that the application of treatment made from moringa seed oil reduced ear edema.
Moringa Tea May Lower Cholesterol
The use of moringa tea has been observed to lower cholesterol levels. This can reduce the risks of sudden death such as heart attack and stroke.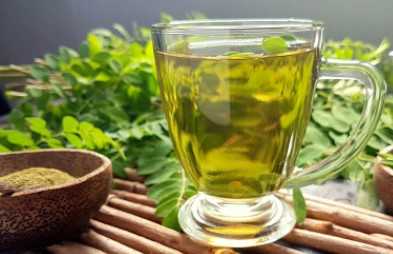 Other Important Benefits of Moringa Tea
We have listed the most important benefits of Moringa powder and tea for you above. However, apart from these benefits, those who use moringa tea and moringa powder comments indicate that it also provides benefits in the following issues.
pays off
Beautifies the skin
Relieves stomach problems
Protects heart health
Lowers blood pressure
Removes iron deficiency
good for eyes
Moringa Nutritional Value
You can see the moringa nutritional values ​​contained in 1 cup of moringa leaves in a table:
| | |
| --- | --- |
| Food | Quantity |
| Protein | 1.97 gr |
| Vitamin B6 | 0.25 mg |
| Vitamin C | 10.9 mg |
| Iron | 0.84 mg |
| Vitamin B2 | 0.13 mg |
| Vitamin A | 79.4 mcg |
| Magnesium | 8.82 mg |
What Are the Harms of Moringa Tea?
Moringa tea may have negative effects in some cases, especially pregnant women should use it carefully. In addition, experts state that those with heart and kidney disease should also approach moringa tea with caution. Some downsides that may be caused by Moringa:
Diarrhea
Heartburn
nausea and convulsions
How to Use Moringa Tea?
Add some moringa tea to the boiling water and wait for it to brew. The effect of moringa tea on fat burning can be seen faster when it is drunk 1 hour before eating.
The content of the article is for informational purposes only. Before using Moringa and similar products, be sure to consult your doctor.
Last updated February 18, 2021