The Mayan horoscope calculation method has recently become more popular than ever. If you are wondering how to calculate the Mayan horoscope according to the traditional Mayan calendar, continue reading our article.
What is the Mayan Zodiac Sign?
Mayan astrology uses a Mayan horoscope calculation system calculated by date of birth, and each sign has its own characteristics. The symbols of the Mayan zodiac describe a fascinating, mystical world filled with animals and wisdom. Astrological maps and symbols from the Mayan civilization have existed for centuries in the focus of the Mayan calendar. Mayan calendar its origin goes back to the Mayan civilization in Mesoamerica, but it is not exactly the same as western astrology.
Mayan astrology is based on a 260-day calendar called Tzplkin, which is a combination of two different cycles. The days in the Tzolkin calendar consist of 13 numbers (from 1 to 13) and 20 symbols. Each of these symbols is associated with an animal or natural element.
How to Calculate the Mayan Zodiac Sign?
The Maya horoscope calculation method is quite simple. First, you need to find your date of birth. This date must be calculated according to the calendar used by the Mayans. So you need to convert your date of birth according to the Tzolkin calendar. To calculate your Mayan horoscope, first divide your birth year (for example, 1988) by four. Subtract the remaining number from your year of birth. Then add your birthday and month to this number. The result will be a number between one and 260, corresponding to a specific day in the Mayan calendar.
You can automatically calculate your maya sign below:
Maya Horoscope Calculator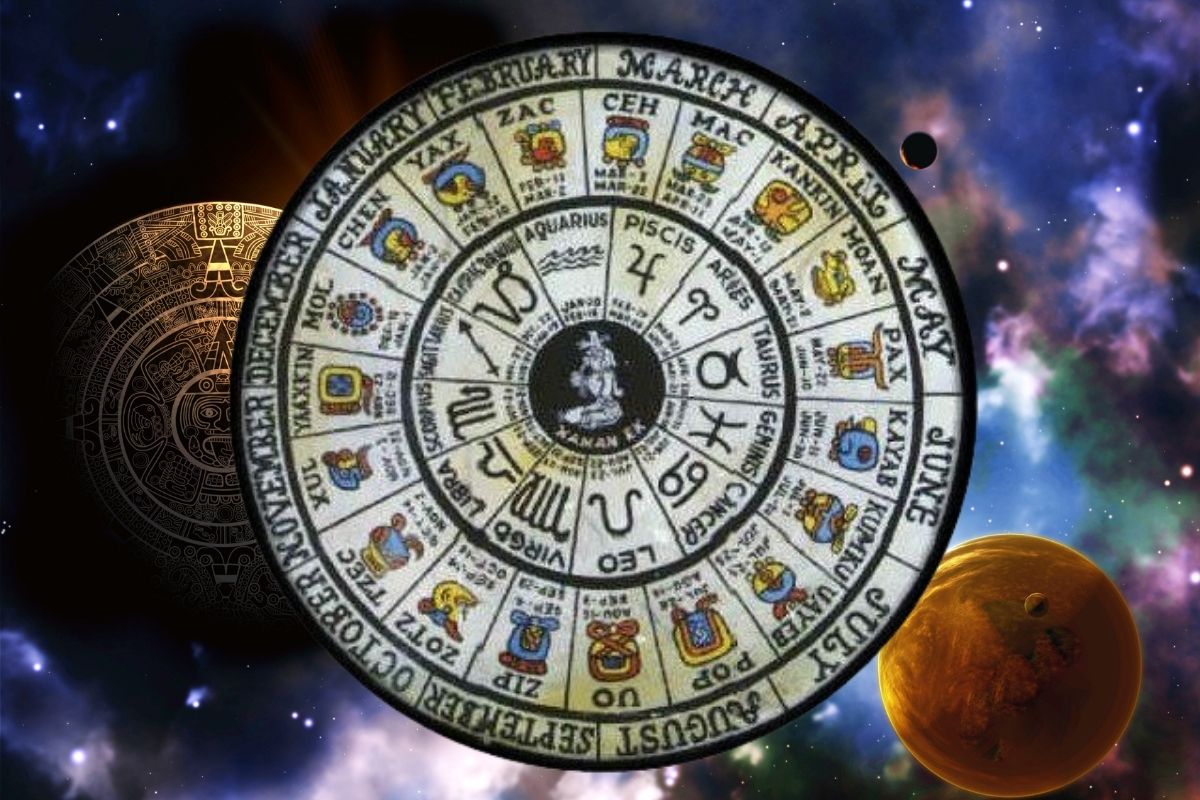 Mayan Zodiac Symbols
The names of the 20-day symbols in the Mayan Tzolkin calendar and their general Turkish equivalents are as follows:
Imix – Crocodile
I – Wind
Akbal – Night
Blood – Seed
Chicchan – Snake
Cimi – Transformation
Manic – Deer
Lamat – Star
Muluk – Water
Arrow – Dog
Chuen – Monkey
Eb – Path
I – Reed
Ix—Jaguar
Men – Eagle
Cib – Quail
Caban – Soil
Etznab – Mirror
Cauac – Storm
Ahau – Sun
Meanings of Mayan Zodiac Signs
Imix – Crocodile: The crocodile is considered the beginning of the universe and life. It represents root energy, protection and solid endurance. Those with this sign are generally protective, resilient and intuitive.
I – Wind: The wind represents the breath of life and change. Communication, spiritual connections and movement are the characteristics of this sign. Wind sign people are generally adaptable to change, flexible and able to communicate effectively.
Akbal – Night: Akbal sheds light on the depths of the unknown and the secrets of the subconscious. This zodiac sign symbolizes dreams, wisdom and the journey to our inner world. Akbal people are usually emotional, intuitive and creative.
Blood – Seed: The seed represents potential and growth energy. Blood sign people tend to be energetic and ambitious, seeking stability and growth in their lives.
Chicchan – Snake: The snake symbolizes rebirth, wisdom and transformation. Those under the Chicchan sign are usually charismatic, curious, and wise.
Cimi – Transformation: Cimi symbolizes the cycle of life, endings and beginnings. Those with this zodiac sign often have strong personalities that embrace transformation, are adaptable and strong.
Manic – Deer: Manic represents the serenity and grace of the animal kingdom. People of this sign are generally kind, helpful and peaceful.
Lamat – Star: Lamat represents hope, beauty and enlightenment. People with this sign are generally positive, hopeful and goal-oriented.
Muluk – Water: Muluk symbolizes the flow of emotions and life. People under this zodiac sign are generally emotional, empathetic, and insightful.
Arrow – Dog: The arrow represents loyalty, protection and friendship. People with this sign are usually loyal, protective and social.
Chuen – Monkey: Chuen represents creativity, play and joy. People under this zodiac sign are usually fun, creative and energetic.
Eb – Path: Eb represents life journey and personal evolution. Eb people are often inquisitive, progressive, and adventurous.
I – Reed: I symbolizes flexibility, balance and harmony. I sign people are generally flexible, balanced and harmonious.
Ix—Jaguar: Ix represents mystery, power and the spirit of the forest. People with this sign are usually strong, passionate and determined.
Men – Eagle: Men symbolizes vision, freedom and high flying. Men are usually visionary, free-spirited and ambitious.
Cib – Quail: Cib represents community, assurance and security. Cib people are generally trustworthy, community-oriented, and protective.
Caban – Soil: Caban represents the power of nature, stability and cycles. Caban people are generally attached to nature, balanced and patient.
Etznab – Mirror: Etznab symbolizes truth, clarity and reflection. People with this sign are generally honest, wise and open-minded.
Cauac – Storm: Cauac represents transformation, change and renewal. People with this sign are usually energetic, passionate and open to change.
Ahau – Sun: Ahau symbolizes light, life energy and divine wisdom. Ahau people are generally inspiring, bright, and have a leadership inclination.
Mayan horoscopes are generally not as popular as Western astrology. We should also mention that horoscopes are based on astrology and prediction, they have no scientific basis, so we should not forget that they do not give accurate and precise results.
For all other calculations calculators You can continue reading our category.