In this article, we explain in detail how to find the closest gym for people who want to do sports. Thanks to the nearest gym finder guide, you will be able to discover the nearest fitness centers to you!
Where Is The Nearest Gym To Me?
First of all, when we google the closest gyms to me, we see many fitness center ads. These promotional ads can appear regardless of the fitness center proximity distance. Our aim is to find a spacious hall in the most convenient location for you in terms of distance, with no shortage of fitness and sports equipment, clean locker and shower rooms, not too crowded and ventilated. For this, first of all, in the google search image below Maps Click on the tab that says.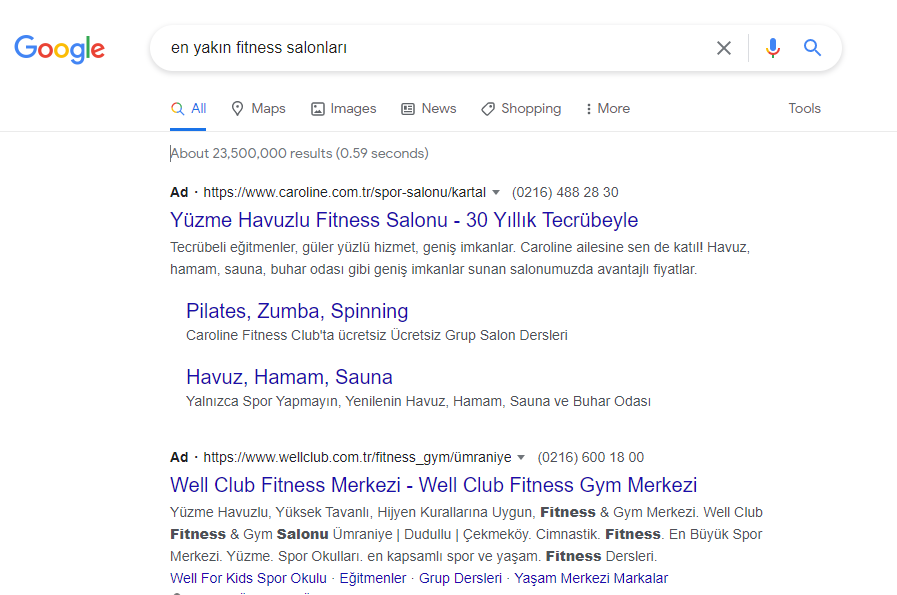 Explore Nearest Fitness Centers
Based on your location when you click on the map and allow your location information:
You can discover the nearest gyms to you.
You can select the fitness center you want from the list on the left and look at its photos.
By reading the comments of the gym visitors, you can look at the score of the gym you want to go to and decide accordingly.
In addition,

The best gyms in Istanbul

ve

The best fitness centers in Izmir

You can also read our article.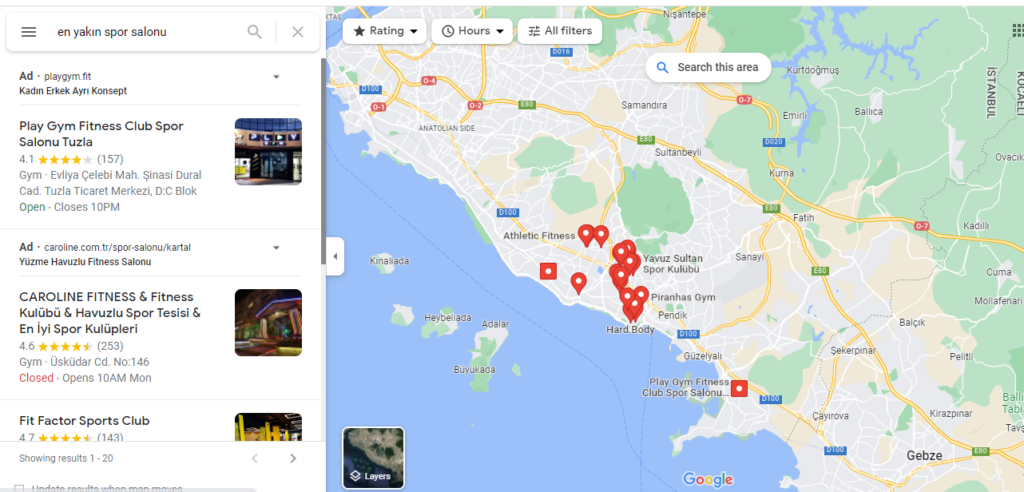 How to Choose the Nearest Gym?
1. Gym Working Hours
A sports club that opens early and closes late to balance work and private life is always the right choice for you. Even if you prefer the closest gym to you, you wouldn't want a gym that provides service during limited hours, would you? Moreover, you do not have to work in a crowded gym environment. But before choosing the gym, consider not only the working hours, but also the facilities in the gym. sports coaches or your coaches fitness trainer certificate Is there? Will they be able to take good care of you? Will you determine your training program with sports trainers? You can make your fitness plan accordingly.
2. Group Trainings
Some get bored of doing sports alone and want to attend group sports classes. If you like group sports, you can ask the nearest fitness center if they have zumba, cardio, spinning classes.
3. Pool and Guest Privileges
There are halls that allow one guest per month. For example, one of these Club Sporium Bostanci. If you want to invite a friend to the outdoor pool once a month, pay attention to this when choosing a gym.
4. Facility and Fitness Equipment Quality
Having a clean, spacious area to exercise is incredibly important. In addition, the quality and newness of sports equipment is very important. We don't even mention the hygiene of shower and changing rooms! (Perhaps the most important, especially in the pandemic)
Last updated April 16, 2022