Pear is a fruit that is both delicious and very beneficial for health. In this article, we cover the calorie and nutritional value of pears in detail. We also include the health benefits of pear and healthy pear recipes. So how many calories are in 1 small, medium and large pear? Here are the pear calories and nutritional values ​​that are curious…
Pear Calories and Nutritional Value
Pear, low calorie and is a high fiber fruit. In the table below, you can find information about the calories and nutritional values ​​of 100 grams of pears.
100 grams of a small pear is 57 calories, and 1 medium pear is 103 calories. One large pear over 200 grams is an average of 1 calories.
poverty
Nutritive value
100 gram
poverty
1 Pieces
Pear (180 g)
% Value per day*
(for 100 g)
Calorie
57 Kcal
103 Kcal
2.85%
Carbohydrate
15,23 g
27,41 g
5.08%
Protein
0,36 g
0,65 g
0.72%
Fat
0,14 g
0,25 g
0.2%
Lif
3,1 g
5,58 g
12.4%
Sugar
9,75 g
17,55 g
-
Su
84,21 g
151,58 g
-
C vitamin
4,3 mg
7,74 mg
4.3%
Vitamin K
4,5 g
8,1 g
5.62%
Potassium
119 mg
214 mg
3.4%
Phosphorus
11 mg
19,8 mg
1.57%
Calcium
9 mg
16,2 mg
0.9%
Magnesium
7 mg
12,6 mg
1.75%
* Daily % values ​​are based on a 2000 calorie diet. These values ​​may vary according to age, gender and physical activity level.
You can also learn the calories of orange, banana and apple from our articles below.
Health Benefits of Pear
Pear offers many health benefits thanks to the vitamins and minerals it contains. Here are some of the health benefits of pear:
1. Support to the Digestive System
Thanks to its high fiber content, pear regulates the digestive system and helps prevent digestive problems such as constipation.
2. Protecting Heart Health
Pear contributes to heart health with its low calorie and high fiber structure. In addition, thanks to the potassium it contains, it has a protective effect against heart diseases by regulating blood pressure.
3. Strengthening the Immune System
Pears are rich in vitamin C, which strengthens the immune system. In addition, pears, which have antioxidant properties, help protect cells from oxidative damage by fighting against free radicals.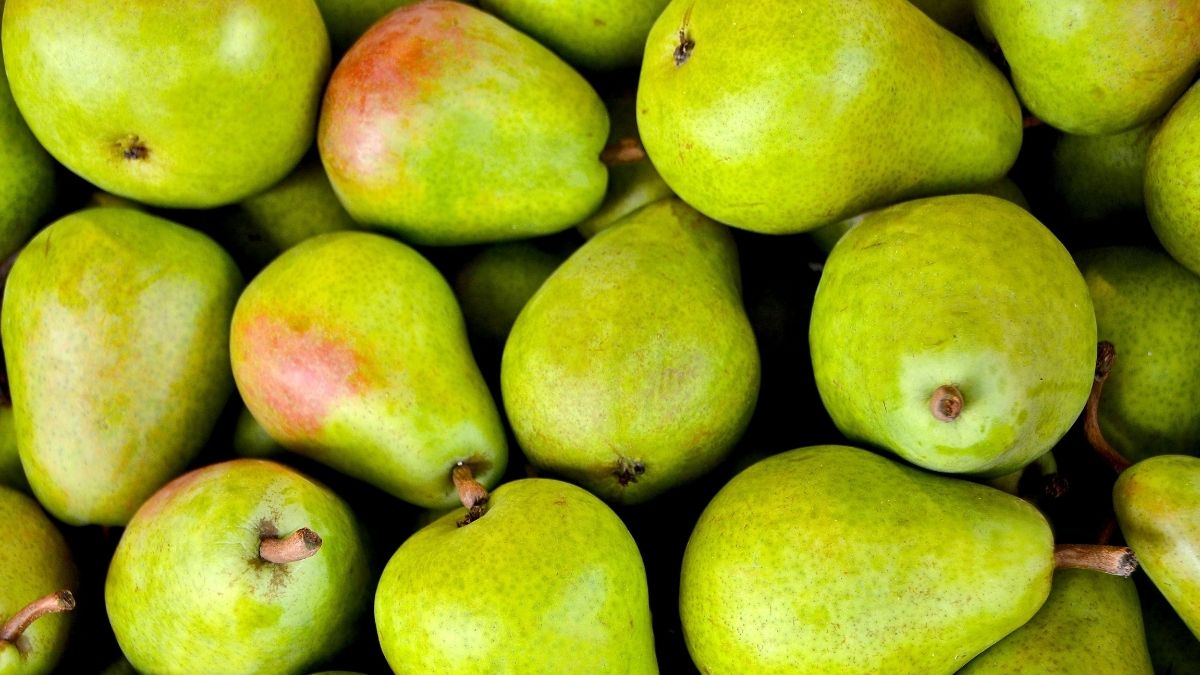 Pear Diet Recipes
You can add pears to your diet by using them in healthy and delicious recipes. Here are a few pear recipes you can try:
Pear Yogurt
Materials:
1 pear
1 bowl of yoghurt
1 tablespoon of honey
1 teaspoon of cinnamon
Preparation of:
Wash, peel and dice the pear.
Mix the yogurt, honey and cinnamon in a bowl.
Add the chopped pears to the yogurt mixture and mix.
Let it rest in the refrigerator for 10-15 minutes and serve cold.
Pear Oatmeal
Materials:
1 pear
1 cup of oatmeal
1 water glass milk
1 tablespoon of honey
1 teaspoon of cinnamon
1 handful of walnuts
Preparation of:
Take the oatmeal and milk in a saucepan and heat, stirring, until it begins to boil.
Wash, peel and dice the pear.
When the oatmeal starts to boil, add the chopped pears, honey and cinnamon.
Cook on low heat for 5-7 minutes and remove from the stove.
Take the oatmeal in a bowl, sprinkle with walnuts and serve hot.
Pear Salad
Materials:
2 pear
1 head of lettuce
1 handful of walnuts
100 g feta cheese
1 tablespoon of olive oil
1 tablespoons lemon juice
Salt and black pepper
Preparation of:
Wash, peel and cut the pears into thin slices.
Wash, dry and chop the lettuce.
Prepare the sauce by mixing olive oil, lemon juice, salt and pepper in a bowl.
Place the lettuce, pear slices, walnut kernels and chopped feta cheese on a serving plate.
Pour the prepared sauce over and serve immediately.
As a healthy and delicious fruit, the pear will add color to your tables, while at the same time it will be an indispensable food source with its nutritious and beneficial properties. Thanks to the information and recipes we have given above, you can learn the calorie values, nutritional elements and health benefits of pears, and enrich your tables with delicious pear recipes.
Frequently Asked Questions About Pear