Anestol Pomad is an ointment containing 30% lidocaine, which has a local anesthetic effect, and is sold in tubes of 5 g. In the applied area local numbness It acts by preventing the nerves from transmitting pain for a certain period of time. However, as an auxiliary substance; There are methyl paraben, propyl paraben, polyethylene glycol 1500, polyethylene glycol 6000, propylene glycol. In this article What is Anestol Pomade? What Does It Do? How to use? Side effects what etc. We will clarify the questions.
What is Anestol Pomade?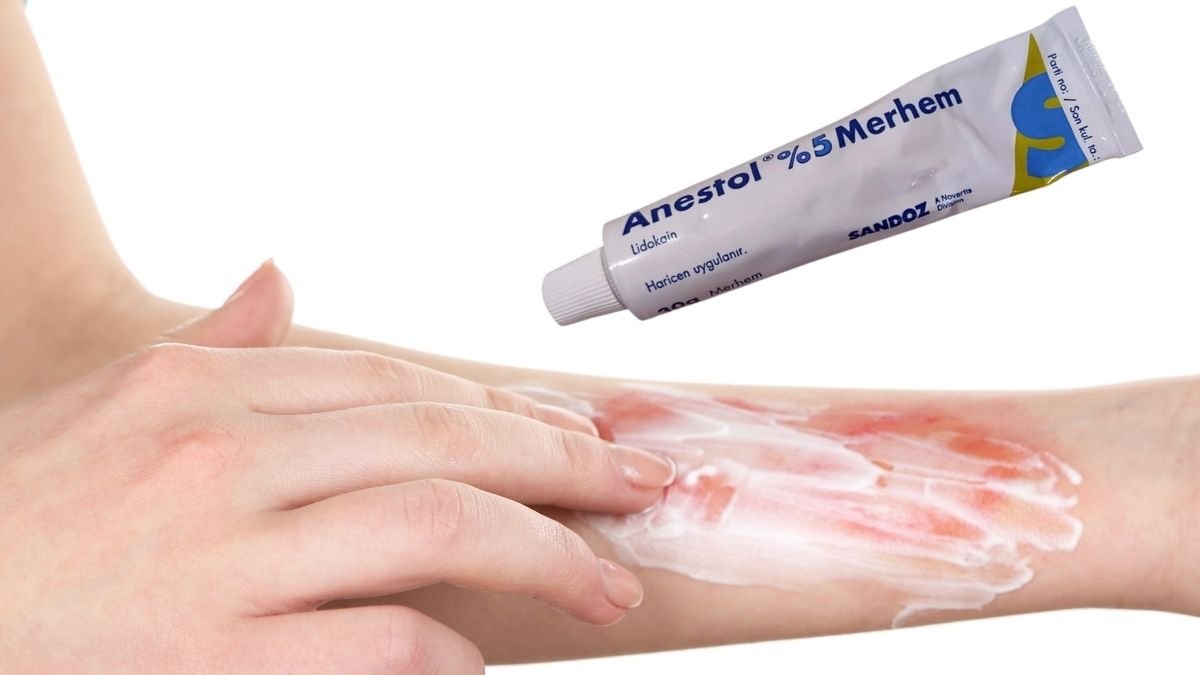 Anestol is a drug that is applied topically and is included in the group that prevents itching. Irritations on the skin due to various reasons, burns, itching, cracks in the nipplesIt has therapeutic properties against anus cracks, lip cracks and pain.
among women wax ve laser hair removal It is preferred as a pre-numbing ointment. Anestol Pomad relieves pain and suffering during epilation.ocal anesthetic minimizes its effect. From the moment it is applied to the skin, it begins to show its effect in a short time and numbs the area where it is applied. In this way, you can easily overcome painful procedures such as laser epilation and waxing. For this, it is sufficient to apply it half an hour before the procedure. Its effect lasts for an average of 4 hours.
If you are afraid of the pain that may occur during ear, nose piercing and tattooing, you can choose Anestol. It is at the top of the list of reliable drugs sold by prescription in pharmacies.
Related Article: What are the Benefits of Phyto Cream for Skin?
How to Use Anestol Pomade Ointment?
You can apply Anestol Pomade several times a day when necessary.
If it is applied too often on large skin surfaces, hypersensitivity occurs. For this reason, you should use it carefully.
The amount you apply at one time should not exceed 5 gr. In addition, a maximum of 17-20 grams per day anestole You should not exceed the dose (equivalent to 850-1000 mg of lidocaine).
During the application, you should apply an adequate amount of Anestol cream by feeding it thoroughly.
If you think of quitting after regular use, you should consult your doctor before ending the treatment.
Anestol creami Keep it out of the sight and reach of children and in its package.
It should be stored at room temperature below 30°C.
Do not use if the expiry date has passed.
Things to Consider Before Using Anestol
Do not use this product if you are allergic to Anestol and amide type anesthetics. Do not use!
If you have a serious infection where bacteria enter the blood, or if the area where you will apply the drug is severely damaged, in this case, you should be very careful as the absorption of the drug may be sudden.
If you are allergic to any drug, you should consult your doctor.
Anestol should be applied in small doses as possible, especially when applied to open wounds in the elderly and children.
Excessive use should be avoided as its application to large skin surfaces and under occlusive dressing may cause cardiac arrhythmia, difficulty in breathing, coma and even death.
The use of Anestol while pregnant should not be used unless considered necessary by the doctor.
Anestole ointment can pass into breast milk. For this reason, if you are breastfeeding, you should not use it unless your doctor recommends it.
If the person using the drug is elderly or a child, it may be necessary to use a lower dose, consult your doctor.
If you have severe liver failure or kidney failure, you should consult your doctor and consume the drug.
Do not apply a double dose to compensate for the forgotten doses, if you do, consult your doctor.
Do not use unless the doctor has prescribed it.
Anestol Pomad ointment contains 0.009 g of methyl paraben and 0.021 g of propyl paraben (hydroxybenzoate) in each dose. May cause allergic reactions. In addition, this medicinal product contains 11.970 g of propylene glycol in each dose. May cause skin irritation.
What are the Side Effects of Anestol Pomade Cream?
It may cause side effects in people who are sensitive to the ingredients of Anestol. In addition, when you apply high doses on damaged skin The following side effects may occur. If you encounter any of these situations, consult your doctor.
Irritability
tremor (seizure)
Dizziness
Itching or Rash
redness
Irritation
Defect of vision
Related Article: What is Madecassol Cream, What Does It Do?
Anestol Pomade Prospectus (Instructions for Use)
For detailed information, you can review our Anestol prospectusYou can review:
Anestol Pomade Frequently Asked Questions
Can Anestol Pomade be applied to the vagina?
It is one of the areas with the highest sensitivity to pain before laser epilation or waxing. vagina You may want to apply Anestol 5 ointment to the area. Thus, it will be possible to bypass this painful process painlessly and painlessly. The main point to be considered is that it should be applied to the outer surface of the vagina. In case of contact with internal surfaces, wash with plenty of water. Sexual intercoursethose who are afraid of pain or have a first night fear only around the vaginawhat should take At least half an hour before intercourse, as having sex immediately after applying the cream can cause burns. anestole ointment needs to be implemented.
Is It Right to Apply Anestol Pomade to the Anus?
breech (anusAnestol Pomad can be used with the advice of a doctor in order to temporarily prevent itching, bleeding, burning, pain and pain in the skin in the ) area. This cream will give you relief, even if it is for a short time.
Does Anestol Pomad Have a Delaying Effect in Men?
There is no information about this in the instructions for use of Anestol Pomad. However, there are some who prefer it as a retarder because it causes numbness in the applied area. It is necessary to pay attention to the dose to be used here. Since applying too much ointment will cause loss of sensitivity in the penis, it will be sufficient to apply a very small amount. Men half an hour before sexual intercourse retardant cream as they can be applied. It is recommended to consult your doctor about this against possible side effects.
Can Anestol Pomade be applied to the face?
It is sufficient to apply it to the area to be treated on the face. For example, if you are going to have wax or laser epilation only on the mustache area, it will be sufficient to apply it to this area.
When Does Anestol Ointment Show Its Effect?
After half an hour, it starts to show its effect in the area where it is applied and its effect lasts for an average of 4 hours.
What is Anestol Pomade Price?
2023 Current sales price is 36,90 TL.
Source: https://titck.gov.tr/storage/kubKtAttachments/0ff7136021799.pdf